Warranty: 12 months
Length: 3ft/1m
Material: Premium Fishnet Braided
Connects smartphone, mp3 player, or tablet to car stereo or portable speakers
Works with any device equipped with standard 3.5mm audio jack or AUX-in port
Gulex's Aux Cable is perfect for any device you have for a standard 3.5mm connector to 3.5mm connector!
The Gulex Aux Cable is compatible with all smartphones including iPhone, iPad, iPod, tablets, car stereos, portable speakers, and other 3.5mm jack devices. Plug and play – without compromise.
Whether you're listening on your smartphone, stereo, MP3 player, or portable speakers, our premium AUX Cable will ensure that you can hear the clean, beautiful notes of whatever it is you're playing – whether than it is music, audiobooks, radio, or podcasts!
The unique fishnet material on our aux cable not only looks good, but makes the lead extra tough so that it is able to withstand connections on the go or at home. At Gulex, we produce the Best USB cables and Aux Leads that are the Most Durable Cables, with 6x the durability of other manufacturers!
Best of all, fishnet material on our aux cables makes certain that won't get tangled in a mess – no matter where it is. Throw it in your bag, carry it in your pocket, or leave it on the floor without the worry.
As well, you can bend it all you want! The tough but giving fishnet braiding is flexible, durable, and comes in convenient 1 meter long aux cable making it strong.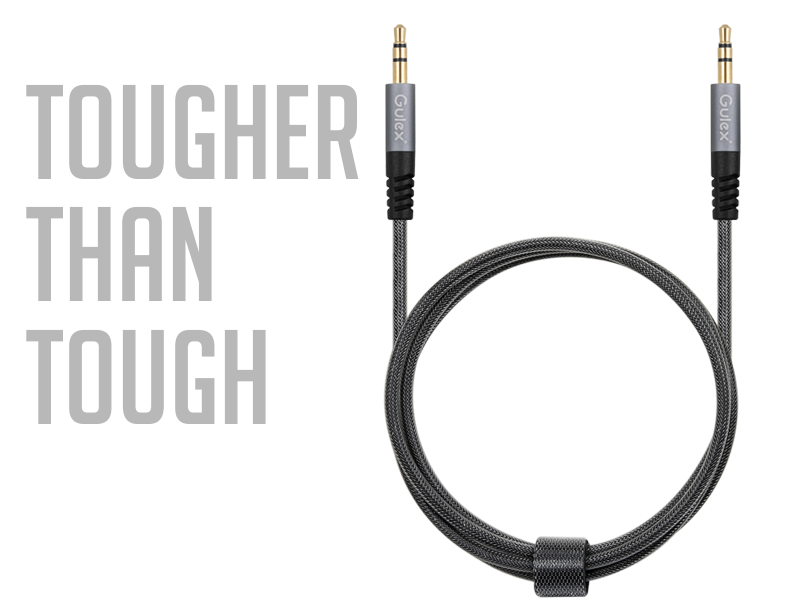 We promise to deliver to you the most innovative and durable products at cost effective prices. From ordering to receiving, we want to make your experience easy and joyful so that you recommend our products to friends and family. At Gulex, we offer a 24-month warranty to ensure your peace of mind and our friendly and helpful customer support team are on hand to assist you at all times.
Gulex exists to create the most innovative, durable and cost effective mobile phone accessories that combine technology with design and practicality. And as an ethical business, contribute to the less privileged of our society.