Which charging cable do you need?
From iPhones to iPads, we've got you covered with chargers for every device and every model.
Tired of Apple iPhone Charging Cables breaking?
It seems that some Apple iPhone and iPad cables weren't built to last. Can you count how many different iPhone charging cables you've purchased over the last few years? Your iPhone and iPad are an essential part of your life, so it's a real pain when your Apple Lightning charger cable has broken or has just stopped working. This combined with a USB car charger that doesn't charge fast enough.
Wouldn't it be great if there was an affordable Apple Certified cable and that it was built to last? Gulex strong iPhone charging cables are the solution to all your problems!
The Most Common Charging Cable Problems
Not just another charging cable – Gulex has a mission to change the world for the better. We produce Apple certified, durable, and fast charging cables that work better for you, and for the environment.
Poorly manufactured chargers not only use more electricity, but have a much shorter life span, meaning they end up in landfills sooner, adding to the pollution of our seas and lands. Gulex cables on the other hand are made to last, and will charge your device much more efficiently, meaning less waste.
As well, with every sale of our strong iPhone chargers, Gulex donates 20p to charities focusing on the environment and improving life for the less privileged in our society. As an ethical business trying to make a difference, we put our planet and people first.
Apple MFi Certified Cable
Each Gulex charging cable contains a unique verified serials number and an authorization chip issued by Apple.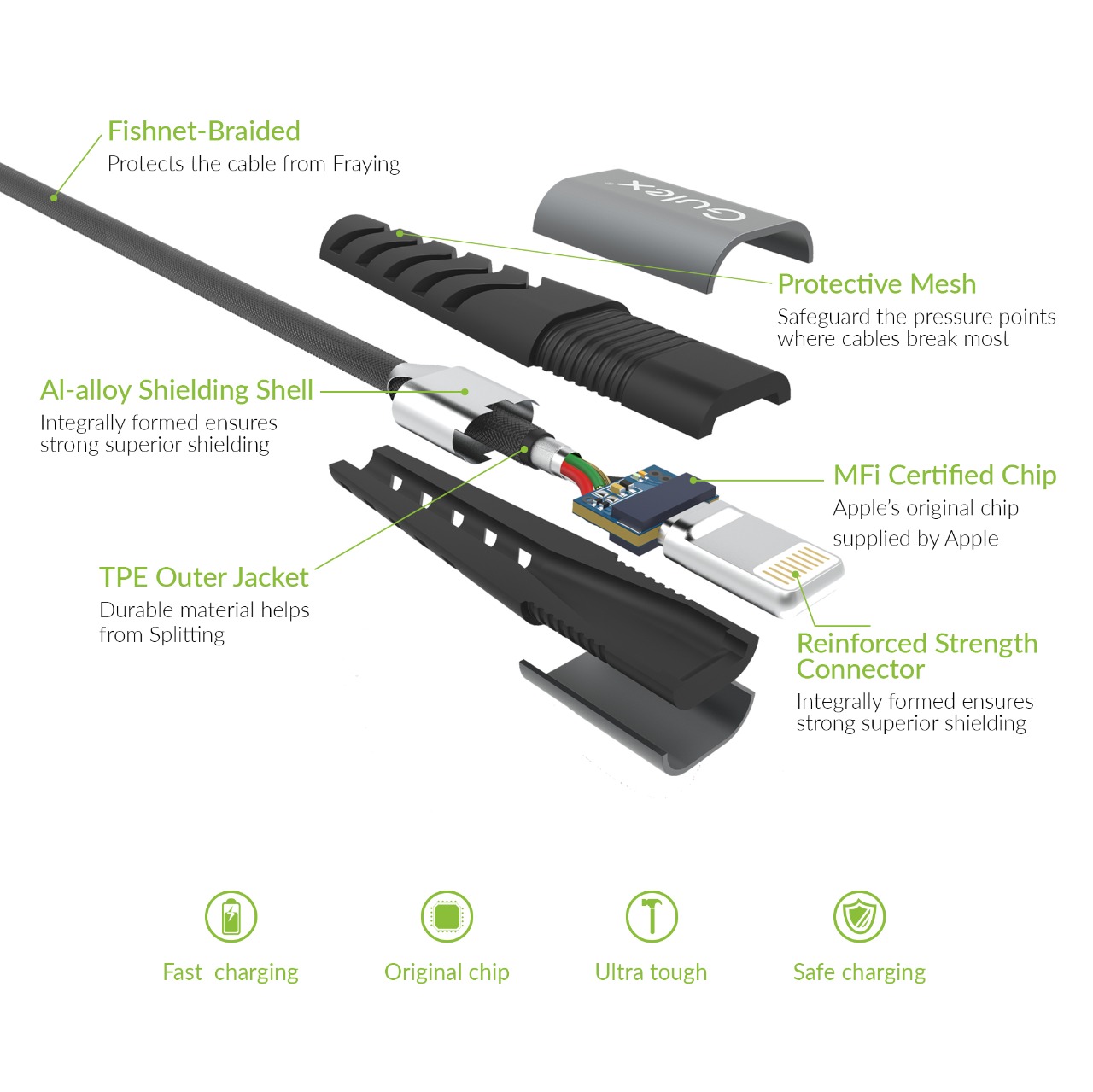 We have engineered an Apple-approved cable built to last. Our strong iPhone cables are guaranteed no to fray, split, or break.
Don't Just Take Our Word for it!
Efficient service had the cable in no time. The iPhone cable is extremely good and charges my phone really quick. Really impressed by the quality of the charger and it's longevity!
Very strong and versatile charger. Always had issues with chargers breaking around the connection point and wire however this solves all of those problems.
Good service, nice people! Good cable! Only is a bit short, it can be about 50cm longer, it will help.
Really like the aesthetics of the cable. Extremely durable as well which is obviously a huge issue with the Apple lightening cable. Great product. Rugged, well made and ideal for all my apple devices. Highly recommended. Nick
Gulex exists to create the most innovative, durable and cost effective mobile phone accessories that combine technology with design and practicality. And as an ethical business, we also contribute to the less privileged of our society. With every sale, we donate 20p to charity.
Our first-time buyers love these charging cables